Greetings
Record your own greeting and try not to use the default greeting from the answer machine or phone service. Having your own personal greeting makes the caller feel at ease, and thus more likely to leave a message than just hang up.
Include in your regular greeting your name and phone number. If you are going away for a few days then record a temporary greeting so your callers would know when to expect a call back.
SuiteAdvantage voicemail feature allows you to record standard greeting, extended absence greeting, no answer greeting and busy greeting, so you can switch your default setting according to the situation and then resume to previous setting without having to record the greeting again. To record your own greeting, dial *0 on your soft phone to access your voicemail. Press 3 and wait for the voice prompt to record your greetings.
Checking your voicemail
Check your voicemail at least once a day. Reply or call back as soon as possible. Delete all messages that you don't need so they don't take up your message logs. (SuiteAdvantage only allows for 25 maximum message logs. If you go over 25, you'll have to delete some old logs in order to listen to new voicemails.) It's also easier to track old messages in a clean voicemail box.
To check your voicemails from OneSuite Softphone, dial *0 to access your voice mail. Press 2 then 1 to listen to your messages. The system will play new messages first. You'll need to press 7 to delete or 9 to save your message to be able to hear the next one.
You can also activate an Auto-Play feature, so whenever you access your voicemail box, the system automatically plays new messages for you.
Leaving your own voicemail
Speak clearly and slowly. Try to keep your messages short and to the point. Preferably, state the time so the person knows when the message is left, and leave your number at the end of your message in case the person doesn't have caller ID.
Sending a voice message
Just like how you'd send an email, you can also send/forward a voicemail or even broadcast it to multiple recipients. Compared with email, voicemail adds a bit of a personal touch to the message, and is a great alternative for people who don't communicate via emails. Here's how to send/broadcast a message with OneSuite SoftPhone:
1. Send a message: Dial *0 to access voicemail system, then press 2 to send a message. Record your message after the tone and press # key at the end of your message. Press 1 then enter the destination number and the # key to send the message.
2. Broadcast a message: To send a voice messages to multiple recipients, you need to set up your own distribution group in My Account. You can build up to 100 groups with 100 individual phone numbers in each group (U.S. or international numbers).
Follow the simple instructions: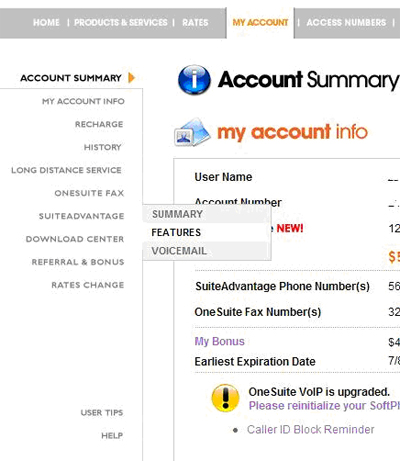 Login to you OneSuite account. Go to SuiteAdvantage Features.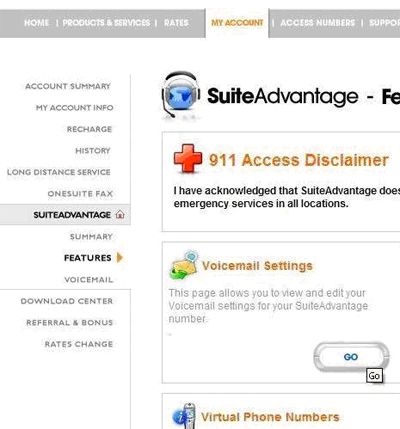 Click on "GO" under Voicemail Settings.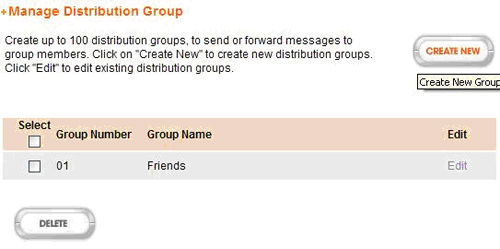 Click on "Create New" to create a new group.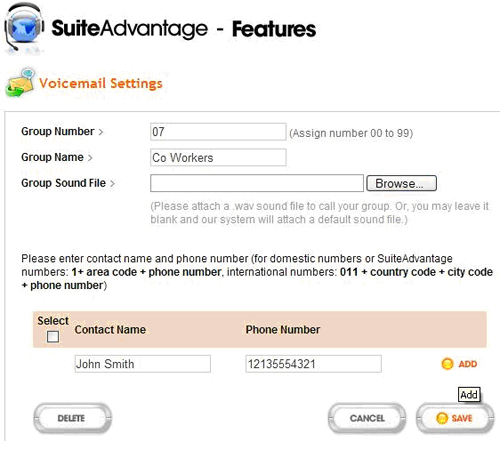 You need to assign a Group Number from 00 to 99 and name this group. If you want to hear your group name when sending voice messages, you can upload a wav file into the system. Or leave it blank for now, and login your SoftPhone to record the group name later. Under contact name, enter the name of the contact then the phone number including 1 and area code. Click "Add" and "Save" to finish the procedure.
On your SoftPhone, follow the same instruction for sending a message. When prompted to enter the destination number, dial the 2-digit group number, then the # key. Your message will then be distributed to the group members, or delivered to their voicemail box if the call is unanswered.