Let's get you started!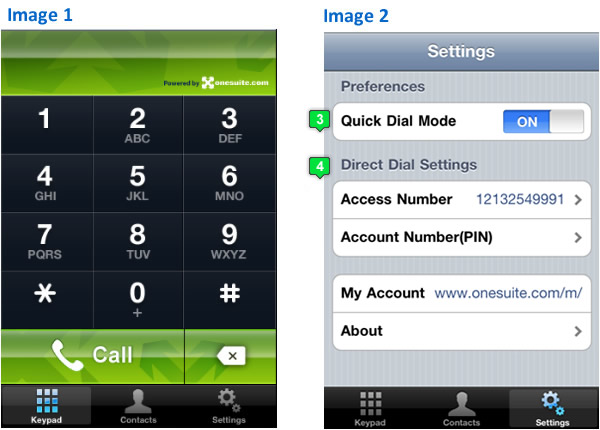 After you've downloaded the app, open it and you'll see the OneSuite Mobile Dialer. (as shown in image 1)
Go to Settings and you will see the interface as shown in image 2.
Preferences: Quick Dial Mode > Slide to turn ON
Direct Dial Settings: Direct Dial Settings > 1). Enter your Account Number (PIN) ), skip if you have ZipDial set up for your cell phone number already, or see "Improve Your Calling Experience 1"; 2). Keep the default U.S. local access number, or enter another local access number. If you're outside of the U.S. or Canada, enter an international access number.
Improve Your Calling Experience
Expedite your OneSuite Mobile Dialer connection time by following these useful tips:
ZipDial + RapiDial = Speed
Save your phone under ZipDial + RapiDial so your OneSuite Mobile Dialer won't need to take the extra step of entering your account number/PIN for you during the dialing process. See our previous blog post for ZipDial and RapiDial set up instructions. Remember that you DO NOT need to enter your Account Number (PIN) under Settings > Direct Dial Settings when your phone is saved under ZipDial.
Skip Balance and Minute Announcements
For an even faster connection, when you are setting up ZipDial, under PIN Management, leave out your Balance and Minute Announcements so it won't be included in the prompts.
One Touch Dialing
Keep Quick Dial Mode turned on (see Setup, step 3) to call straight from your contact list.
Destination Number Format
In your contacts:
Enter your U.S. and Canada numbers as: 1 + area code + phone number;
Enter your international numbers as: 011 + country code + area code + phone number.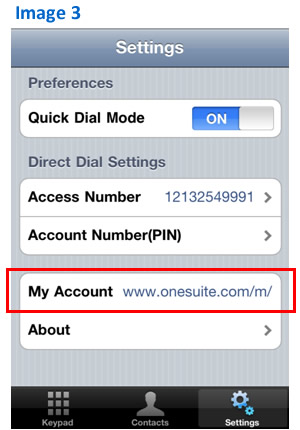 Mobile Site
To access your OneSuite account, visit our companion mobile site to manage settings, look up call history, check rates and search for local, toll-free or international access numbers.
You can also reach the mobile site from your app, under Settings > My Account.
And a final reminder, OneSuite's Mobile Dialer app is for your iPhone only! The app requires wireless service to make calls, and is not compatible with iPod or iPad.