First, to register your OBi100, you need to create an account at www.obitalk.com. What comes in handy is that you could just log in using your Google account to minimize the hassle of managing numerous online accounts. Or, you can always create a separate account if you want.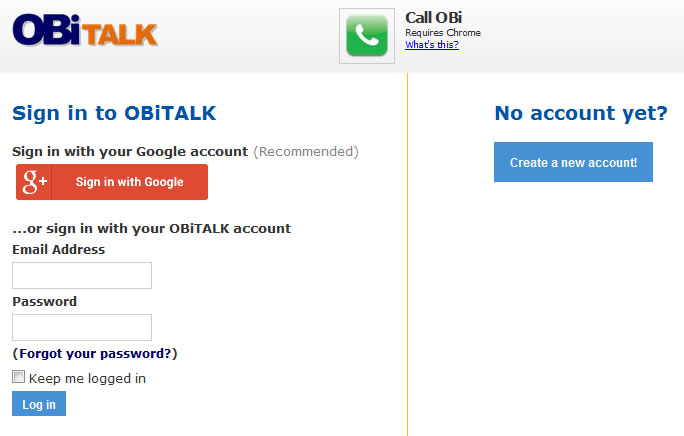 Once logged in, click on "Add Device" in the left menu and follow the instructions to properly add the device to your network by connecting it to your router or gateway. The device should be plugged in and the status lights should be green.
Uncheck the box of "I want to configure GoogleVoice on this device" and click "Next".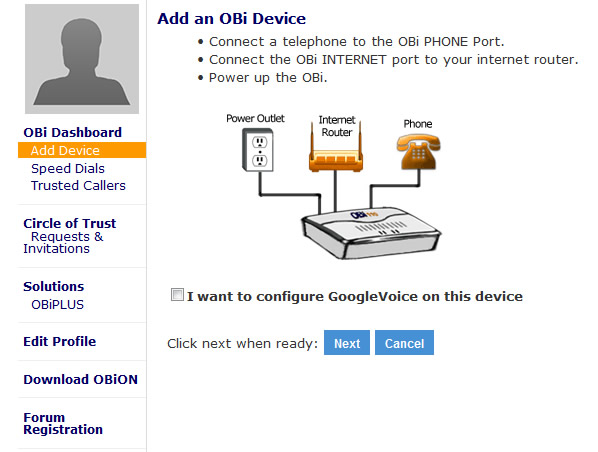 Follow the instruction on the next page to add your OBi device.

Confirm your device information on the following page.

OneSuite Configuration
On the next page, you can name your device, set up webpage admin password and local time zone. When done, click "Save". Then, click "SIP Service Provider Set-up" to move forward.

Click "Accept" to acknowledge the warning regarding placing emergency call using this device. Also be aware that SuiteAdvantage does not support calls to any emergency numbers nor emergency services.

Choose OneSuite as your service provider to start configuration.

Settings on the following page:

Configuration Name: OneSuite Account
Make this the primary line to call out from : checked
Voicemail Notification: checked
7-Digit Dialing for USA & CAN: optional
Use this service for emergency 911 calls: OneSuite does not support emergency calls.
OneSuite VoIP Number: For VoIP user, please enter your OneSuite VoIP number including country code. For broadband access user, please leave it blank. (It will be save in format of 1XXXXXXXXXX@voip.onesuite.com after you navigate to next field.)
Service provider proxy server: voip.onesuite.com
Service provider proxy server port: 5060 (default)
OneSuite Username: Your OneSuite username (It will be saved in format of username-voip.onesuite.com after you navigate to next field.)
Password: Your OneSuite VoIP password
When done, click "Submit". Your device will reboot immediately and when the lights turn green again, you are ready to make calls.


After the reboot, check the status to see if you are registered with OneSuite. You will also see the status icon shows green color to verify that you are successfully connected. If not, then review the settings above and make sure everything is configured as instructed.

If registered, you are now ready to make OneSuite VoIP calls with OBi100. It's that easy!
To call a US number, just dial the area code and phone number. For international calls, dial 011, followed by the country code, area code then phone number. SuiteAdvantage users can now dial *0 on the phone to access your voicemail, also the phone will play a stuttered dial tone to notify you there's a new voicemail.
We hope you enjoy your OBi device and feel free to share any feedback with us.
Happy calling!